Fifteen years ago, I co-founded Triple Crown. At the time, I thought I had all the answers. I suppose it takes some kind of ego to risk building a business from the ground up. Now, I am learning that it takes a different kind of audacity to keep a business growing and transforming. It's the audacity to ask for help.
The First Ask: 10+ Years In

Asking for help has never been easy for me. However, a little more than a decade into Triple Crown's rapid expansion as a national technology talent firm, it became clear that some outside help was needed. Triple Crown was plateauing.
I put my ego aside and asked for help from my trusted and outstanding college network of friends from my time at Williams, who are all successful professionals. We are friends who through shared experiences and knowledge-sharing constantly push each other to be our best selves. We share weaknesses, as well as successes, and listen to each other. Sometimes we behave like we're 20 again, and have to then nurse our 40-something selves through the aftermath. Nonetheless, we push each other to be better in work and life.

As an example, four years ago this group of trusted counselors advised me to find a marketing partner that could help boost our brand and support our sales. We hired ClearEdge Marketing for branding, marketing and sales support and have been rewarded with a powerful boost to our bottom-line growth and brand expansion
Asking for Help Gets Easier Once you receive good advice from the outside world, it gets easier to ask for more. Shortly after hiring ClearEdge for outside marketing help, we hired Sarah Milliken as our Director of Finance and Accounting to build and lead our finance group and take a large operational load off the senior executive team. I also hired James Jandl leadership consultant and executive coach, to expand my leadership skills and work with our executive team to build out a topnotch HR department now led by Jenn Casinander.
In addition to relying on outside resources to help our expansion and optimization, my team and I have also attended highly enriching industry conferences run by Bullhorn, SIA, ASA, and Bowstring, and I completed an executive leadership seminar at the famed Harvard Business School. I have become voraciously hungry for knowledge that our leadership team can use to improve, and Triple Crown can leverage to grow into a bigger, better business. The best news is this: it works. The growth chart below shows both the plateau of the business from 2014 to 2016 as well as the surging success that followed after we began to embrace the concept of outside help.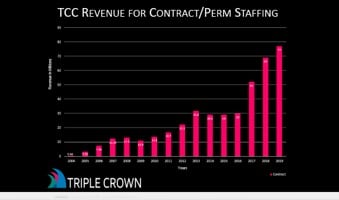 My Wharton Experience
My most recent search for industry-leading knowledge and inspiration took me to the distinguished Wharton Business School where I completed an intensive education on Mergers & Acquisitions at the end of January. Why now and why Wharton?
The now is because our staffing organization is entering the maturation phase which SIA (Staffing Industry Analysts) calls strategic expansion, as can be seen in the graph below. It's important for me to prepare ourselves to enter this phase of our business armed with the proper expectations while continuing our relentless attention to organic scale.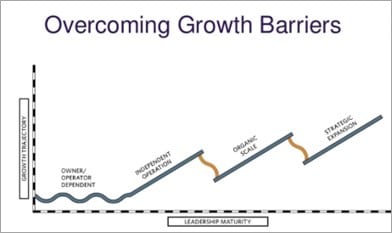 As a business leader, I wanted to be sure I was bringing the very best thinking to a phase in our company that relies heavily on the vision and strategy of those in leadership roles. And that brings me to "Why Wharton?" Each year, over 13,000 leaders attend Wharton's executive education programs to advance their skills and organizations. I knew that by sharpening my knowledge in Mergers and Acquisitions, I would be better prepared for new kinds of growth opportunities that will arise for a maturing business.
At Wharton, I learned that discipline is key to creating and unlocking business value. I learned that operational synergies are real and can be identified and leveraged for greater acquisition success. I learned that strategy is useless without management execution and vice versa. And, echoing a main theme from my time last year at Harvard, I learned how people are everything when it comes to helping a business succeed.
Learning Is Living
On my way home from my time at Wharton, I learned that Kobe Bryant died at the age of 41. Our Triple Crown leadership team has a group text, and we began discussing the tragedy. Monica Wilkins our Regional Vice President of the West Coast texted, "It doesn't matter how old you are, live your life to the fullest because you never know what the next day can bring."
Monica is absolutely correct. I'm honored to be on a team with someone like Monica who brings this outlook to our leadership group and is willing to remind us all. It's easy to get stuck in the everyday and overlook the incredible opportunities right in front of you. The knowledge and satisfaction I got from my opportunity at Wharton juxtaposed against the shocking and sad loss of Kobe Bryant hammered home Monica's message. Take every opportunity you have to learn and grow because you have no idea how much time you have.
I'm grateful for the repeated opportunities Triple Crown gives me to learn, grow, and push my boundaries. I am grateful for the people—from my college network and leadership team to our bold Triple Crown employees— who push me to be and do more. How lucky am I to be in an environment that constantly fuels growth? I wouldn't trade that for anything, and will always pay it back by sharing the knowledge and keeping learning a hallmark of our company's DNA.